Show: Longmire

Verdict: ★AMAZING★
How much I've seen: Four seasons
You should watch it if you like: Westerns or cop procedurals (CSI, NCIS, Criminal Minds, Law & Order, etc)
Where you can watch it: Netflix
There are a TON of cop procedurals out there, and the genre itself is as formulaic as the plot of an episode. So when one breaks the mold, it's definitely worth …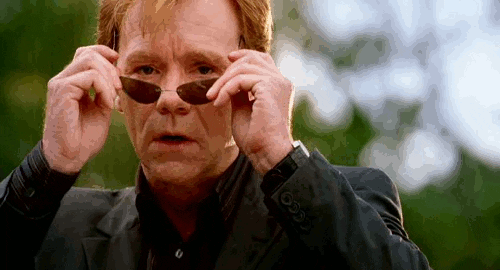 investigating.
Yes, Longmire is basically just another cop procedural, but it has a lot going for it. The show isn't about a big city police department or a federal agency with a a ton of resources at its disposal. It's about a five-person sheriff's office in Wyoming. They have no tech. The title character doesn't even carry a cell phone. Cases don't get solved by TV-magic-forensics, or pseudo-scientific profiling. They get solved with investigation, knowing the people & area, and gut instinct.
It's always annoying when you hear things like "New York City itself is a character!" But if NYC can be a character, then Wyoming definitely is in Longmire. There are some beautiful shots of big sky country in this show. (Yes, I realize "Big Sky Country" is Montana and the show takes place in Wyoming, but it's filmed in New Mexico, so all bets are off as far as I'm concerned.) Not only do I recommend you watch this show, but I also recommend you watch it on the biggest screen you can get your hands on. A phone, tablet, or laptop screen isn't big enough to appreciate the beauty of this show.
Of all the ways in which Longmire is unique, I think the most interesting is the large cast of native American characters. From his best friend to his greatest enemy, Sheriff Longmire deals with the native population frequently; maybe in every episode. I can't think of another show that deals with native American culture, except maybe Hell on Wheels. Jurisdictional issues aren't typically interesting. In fact, the only plot lines involving them I can think of involve someone somehow having diplomatic immunity and the cops figuring out how to arrest them anyway. Longmire frequently has cases somehow involving the local reservation. People flee to it in order to escape arrest. In at least one case, the criminals were going to the reservation to commit crimes because they couldn't be arrested by tribal police after they left the scene. What other cop show has that?
I like this show so much, I read a handful of the "Walt Longmire Mysteries" books the show is based on. This is the only show or movie that I can think of that I liked the book(s) less.
If you like cop procedurals and/or westerns, Longmire is definitely worth checking out. If nothing else, watch the first episode and tell me you didn't at least consider moving to the Great Plains.